Max Verstappen says Red Bull is getting stronger with every race weekend in 2019, as it aims to reel in championship leaders Mercedes.
Up to every race before Monaco, Verstappen finished every event ahead of at least one Ferrari. In Monaco, Verstappen crossed the line ahead of Sebastian Vettel, but dropped back to fourth due to a time penalty, while Charles Leclerc retired early on.
The Dutchman has picked up two podium finishes so far and has had a consistent run of results.
MORE: Verstappen expects Ferrari to be more competitive in Canada | Horner: 2021 rules should focus on driver influence
In an interview for his website Verstappen.nl, the 21-year-old feels that while Red Bull is getting stronger, moving to the front of the field is a tall task due to the consistent upgrades its rivals are also bringing.
"I think we are getting stronger every race weekend and we keep putting bits on the car that are making it faster, but as can you can see other teams are very strong and they also keep pushing very hard, so we just need to make sure that we keep doing a little bit better job of it than they do," he said.
Verstappen happy with current Honda relationship
2019 is Red Bull's first year with Honda as its power unit supplier, following the Japanese manufacturer's campaign with Red Bull's junior team Toro Rosso in 2018.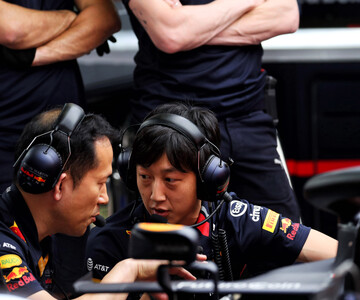 Verstappen is pleased with how the relationship is going with Honda, commentating that strong communication is vital to the growth of both operations.
"The relationship with Honda is working really well," Verstappen said. "The communication is good, and that's always crucial in getting more performance from both parties.
"At the moment I'm just very happy with how everything is going. We are winners and at Honda they are the same, so we are both pushing hard to become even more successful together."
Verstappen not setting goals for the remainder of 2019
Prior to the start of the season, Red Bull advisor Dr Helmut Marko claimed that Red Bull would win five races in 2019.
While it hasn't yet picked up a victory, Verstappen says it's important not to set any goals for the rest of the year as Red Bull's situation can change from circuit to circuit.
"It's very difficult to anticipate. We know that we have to improve, but things can change from track to track," Verstappen said. "There are places where you are naturally a bit more competitive than at others."
"From my experience what always works best is to wait and see and don't set a lot of goals. Just work hard and approach every single weekend as an opportunity to win, and we'll find out at the end of the season how it went."