F1 and power are inseparable. It's not a coincidence, however, that 'power' covers both 'engine power' and 'mightiness'. RedBull's continuing struggle to find an engine – for us as viewers - seems to be all about the mechanical aspect, but is that really the case?
Media are overwhelming us, non-stop, with many contradictory stories and theories. What seemed to be so clear becomes unclear with the speed of sound. However, what most analyses on this subject ignore is the fact that indistinctness might be a goal of those who direct the 'engine opera' behind the scenes. Lets face it: indistinctness and 'games' are inherent to F1's ruling politics.
In the beginning it all seemed oh so clear: RedBull wanted to replace Renault by a more competitive engine manufacturer and Renault claimed to be 'very disappointed' in the Energy Drinks Squad and talked about 'serious marriage problems'. The only thing we know for sure is that RedBull and Renault still have a contract thus Scuderia Milton Keynes has an engine. Of course that's not end of story, because having it doesn't mean wanting it.
Cosworth 1.6 V6 Hybrid ready to go
In Sochi Bernie Ecclestone claimed he had solved the problems and both RedBull and Toro Rosso have an engine to compete with. Strangely enough no one could or wanted to confirm any of this. Various experts, such as Martin Brundle, expressed that Renault would probably be the only way to go for RedBull. In other words: last chance, save your marriage.
In the following days Bernie Ecclestone (again) started using the word 'Cosworth'. According to various sources Bernie had come up with the idea to bring back the old V8, combined with more/larger KERS and some weight advantage in order to create a cheap alternative for the less wealthy teams. Would this be an easy and acceptable solution? Probably not since (for example) there are strict limitations on fuel weight but big differences in fuel consumption and so on. Probably this wasn't even a serious idea.
Putting things in perspective while adding some history to most recent events leads to some interesting insights.
In the end of September '14 several media – such as motorsport.com – reported that Cosworth has a V6 1.6 Hybrid on the shelf and wants to enter F1 as a good but reasonably priced alternative for all current F1 engine manufacturers. Driving force behind this concept: Bernie Ecclestone.
Owning the ship but not ruling it
This means the sly FOM-boss is walking around with the idea of having an independent engine supplier for a long time already. At the same time this shows how easy it is for RedBull to (at least) get an engine. But there's one very important condition: new suppliers must be able to update their engines during the 2016 season in order to stand a chance against current ruling forces. The FIA and F1's engine manufacturers agreed on that yesterday (Thursday), so this is no longer an obstacle. It has become a realistic option.
This is, however, the point where the other definition of 'power' comes in.
The F1 circus has gotten into a situation where both Mercedes and Ferrari rule in way too many subjects and layers. They dictate pecking order, participate in other teams, often decide who's to drive in smaller team's cars and last but not least decide whether RedBull (four times world champion!) and Toro Rosso are in or out. Almost. We can't ignore the fact that Bernie Ecclestone officially (at least commercially) rules F1. However, he's gotten into the situation of owning the ship but not ruling it.
Ready for eternal life
Ecclestone wouldn't be Ecclestone if he wouldn't come up with some kind of master plan that nobody foresees. His involvement in the Cosworth-project is probably a great example of his genius: by bringing Cosworth back into the sport as an independent engine supplier he doesn't only make sure there's an alternative for smaller and/or independent teams. He also makes sure his power (again) rises out above all others in order to lead and shape the sport the way he wants. Although we have to be careful and do realise this article contains a few assumptions it's likely that Cosworth is indeed an option for RedBull Racing. Not with a V8, which Bernie suggested first, but with a V6 Hybrid. If RedBull stays in F1 thanks to Cosworth entering the sport that would be a win win situation. Especially for Mr. Bernard Ecclestone.
Now only one question remains unanswered: does Ecclestone have alternatives if this all goes wrong?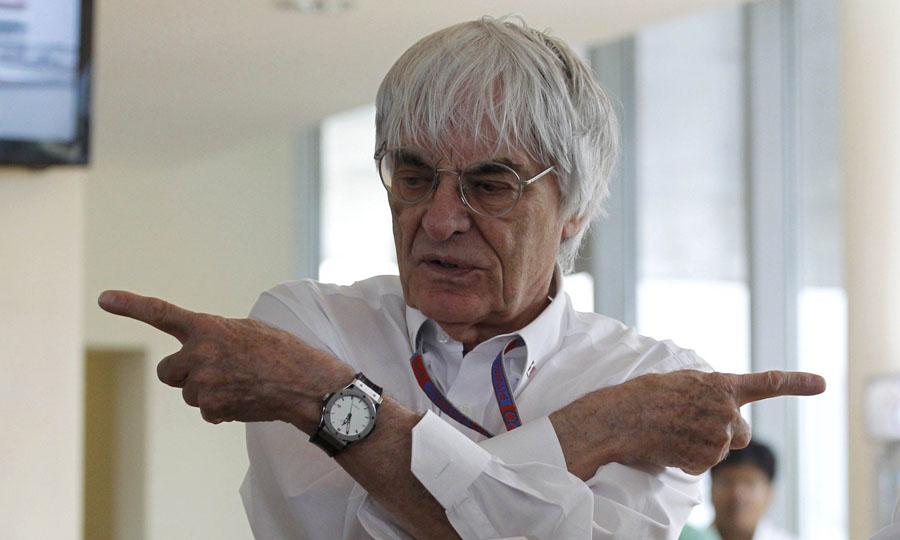 The simple answer to this question is a firm 'yes'. In 2011 Ecclestone managed to get his hands on Formula One's commercial rights for a period of 100 years. Yes, that's what you read: one hundred years. Although F1 is a FIA championship, the European Commission decided that it's not allowed to be both governing body and commercial rights holder. That's why the FIA had to resign from commercial rights for a long period of time. This gives Bernie more power than the paperwork says he has.
If the FIA takes too many decisions against Ecclestone's will he could enforce a situation in which Formula One is no longer profitable for it's competitors, start his own championship and lure current F1 teams with tempting financial conditions. This option is real.
Only time will tell if this scenario will ever unfold. It's a question only one man can answer. This article – most of all – makes clear who's in charge of modern F1. If we didn't already know. It seems very logical that Ecclestone wants to rule his own company and in order to achieve that - plus decreasing Ferrari's and Mercedes's power – bringing back Cosworth probably is the best and fastest way to achieve that. But there's no doubt that 'engine gate' is not just about engines.