One of the biggest operations that is carried out behind the scenes that allows Formula 1 to operate the way it does is the successful logistics of transporting equipment around the world.
The 2020 season, which has been delayed by the deadly COVID-19 disease, will get underway next weekend at the Red Bull Ring in Austria for two races before an eastbound trip through Europe and into Hungary.
Due to the first two races being held at the same venue, Mercedes is logistically treating the opening three races as a double-header.
"For the last two weeks at least I've been on the phone every day on conference calls every day to our logistics provider because everything is constantly changing," said Karl Fanson, Mercedes' head of race team logistics.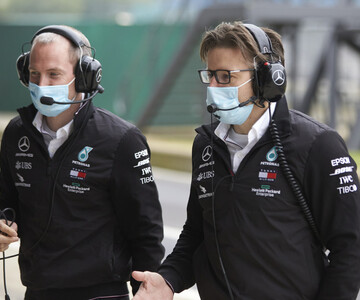 "With the race calendar being confirmed so late, luckily we're staying in Europe for the first eight races. Fortunately, this time, although it is a triple-header, logistically we're really classing it as a double-header.
"What we're doing is racing in Austria and then racing in Austria again. Then it's almost a quick five-hour move up the road to Budapest. When we set up in Austria, it's like a single event for us, although it is a double-header. We don't have to pack down and move to another venue."
Mercedes has outlined that it will have a team that will be sent to an upcoming world championship venue in order to build and set up working areas.
The teams members that are setting up will then depart before the race crew arrives and travel to the next destination for F1, where it will carry out the same process.
"The set-up and pack up operations for the European [rounds], nothing really changes for us," Franson said. "Whilst we're qualifying and racing in Austria, we will have a crew of people in Budapest building a garage, building the awnings at the back of the garage for us.
"So when we move everything across on the Sunday night and the Monday to Budapest, we should arrive to a built garage and then we'll just have to fill the empty spaces.
"The people that build the garage, they should be done and dusted by the time we arrive and they should be moving on to the next one. They'll be coming back to the UK and getting ready for the garage to be built in Silverstone."
Drop off and collection points have been arranged for tyres and fuel, in order to limit the contact between staff. When teams are finished with their Pirelli tyres, they will send them back to the drop off point and clear the area.
"Normally we would have our fuel delivered to the garage and we would send people to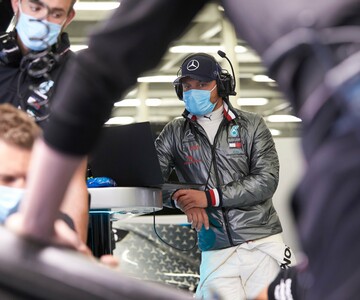 Pirelli to collect the tyres," Franson outlined. "It's now going to be that we'll have a drop off point and collection point for the fuel and the tyres will be taken to a drop off point.
"Our lads will go to the drop off point, collect the tyres and vice versa. Once we're finished with the tyres, we'll take them back and Pirelli will pick them up once we're clear of the area."
However, not all journeys can be made via trucks and cars, leading Mercedes to use charter flights, instead of the traditionally used commercial flight journeys.
Mercedes' travel manager Joanna Jones says organising this operation in a time where travel restrictions are changing constantly is a significant challenge.
"As far as travel is concerned, the main difference this year is how we travel," she said. "Usually, we would travel on commercial flights however for the team's safety, we are now travelling on private charters, departing and arriving at private terminals.
"The team is also driving from Austria to Hungary and all these measures have been put in place to reduce the amount of people the team comes into contact with. The biggest challenge we are facing at the moment is the ever-changing travel restrictions. We are constantly having to review each government guideline within each country.
"Usually, we have months to plan or the races, however this has been reduced to weeks. We've had to make decisions quickly. For example, the charter planes - we knew these would be in high demand, so we've had to make decisions quickly [and] promptly to ensure that we got the correct plane at the right time for the team."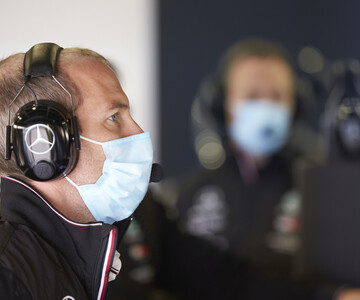 Following the double-header races at Silverstone, which are the fourth and fifth rounds of the season, F1 will move down to Barcelona, which will complete another trio of races.
However, the journey to Barcelona from Silverstone is a notable distance considering there are a very limited number of days before the cars are expected to be back on the track.
Franson said of getting from the UK to Spain: "Logistics from Silverstone to Barcelona is quite a distance, and it is a back to back race. What we'll have to do is we'll have our normal pack up crew come in.
"Then take all of the engineering base down, pack it up and load the trucks ready to go. We'll then have a crew of fresh people come in. They'll then drive the trucks from Silverstone and get it down to Dover, across the water where they'll be met by another crew of people.
"They'll then swap over, the trucks will carry on to Barcelona ready for the lads that packed up in Silverstone [who] will be fully rested and ready to build again in Barcelona as soon as the trucks arrive."
Trending news
Trends come and go, and we have seen all sorts of cultural trends with respect to sports. It's no secret that t...